This Week as we goes thur the dead movie month of August, there is three midweek released and three friday released but after it all said and done The Dark knight will be No. 1 again and who know it will gross 475 millions.
OPEN WEDNESDAY

"Pineapple Express":[R]
Two lazy slackers get weed and witness a murder and now running for there life big time as James Franco and Seth Rogen stars in this action comedy.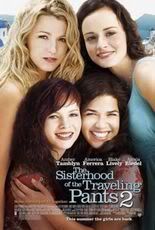 "The Sisterhood of the Traveling Pants 2":[PG-13]
this a follow up to there 2005 adventure find the four friends tavel to Greece as they reconnect after a summer apart and get reconnect by pants, Oh did i say School get back in about a month.

Open at the Landmark Maple Art Cinema III in Bloomfield Hills
"Bottle Shock":[PG-13]
Base on the ture story, this Comedy/Drama trace the route to changelln the frech in one thing they know really well, putting on better wine.
Did i mention i don't drink.

OPEN FRIDAY

Playing at Birmingham 8 in downtown birmingham

"American Teen":[PG-13]
A doc follow Four teen in there serion year in high school in one small Indiana town, it something we all been there before.
"Kabluey":[PG-13]
Scott Prendergast star in this Comedy where he take a job to surport his family, but the only job he can find a embarrassing corporate mascot. Ouch!

Playing in select theahers

"Hell Ride":[R]
This is a old school spaghetti western where the The Victors and 666ers duke it out with inter confict in between.
Can you say this a Cable movie.

Playing at the DFT at the DIA


ENCOUNTERS AT THE END OF THE WORLD

(USA/2007—directed by Werner Herzog)

"No director demonstrates Werner Herzog's gift for depicting the crushing inhuman power of natural landscapes, and the way that power transforms the human subject into something problematic. The vast empty splendor of Antarctica represents the quintessential Herzog setting and inspiration, with the physicists, biologists and vocanologists Herzog interviews – each struggling to extract meaning from this place – functioning as both comic and heroic doppelgangers within the director's visionary enterprise. With Herzog's penchant for lyrical speculation balanced by solid scientific and historical fact, Encounters reveals a place that exists wholly apart from our prosaic day-to-day human society, and represents a decisive work by an artist at the height of his powers." –Larry Gross, Telluride Film Festival (98 min.)

Playing
Friday and Sunday at 7:00 PM and 9:30 PM
and Sunday at 4:00 PM

and Part three of
MUPPETS, MUSIC & MAGIC: JIM HENSON'S LEGACY

Part Three
Muppet Fairytales
Sunday at 2:00 PM

What happens when you kiss a frog? No one can tell the story better than Kermit and his friends in The Frog Prince (1971). The Elves and the Shoemaker (1994) asks the question: What if the elves who come to the aid of the shoemaker are actually Elvises? See these classic tales through the googly eyes of the Muppets.

And DOnt forget a special event
This upcoming Thursday

DJ SPOOKY'S REBIRTH OF A NATION
This THursday at 8 P.M.

Conceptual artist Paul D. Miller, AKA DJ Spooky That Subliminal Kid, draws on his celebrated skills as a writer, musician, club DJ, philosopher, and social critic to create a multimedia performance that examines mythmaking and propaganda. Rebirth of a Nation is a video remix of D.W. Griffith's 1915 silent film The Birth of a Nation, hailed for its use of pioneering editing techniques and reviled for its racist depiction of African-Americans and distorted account of American history. Through Rebirth of a Nation, Miller offers a twenty-first century response to Griffith's film that questions the fragmented perceptions that make up our complex history. Working in the motif of "DJ as director," the artist cuts and pastes celluloid sequences "live" to create a new experience. The accompanying soundtrack is a mix of Miller's electronic compositions, including a score recorded by the acclaimed string ensemble Kronos Quartet. The performance will be followed by a moderated discussion with the artist.

New at the Discount theaher

MEET DAVE (PG)
THE INCREDIBLE HULK (PG-13)

And Opening Everwhere Next week

Opening This Wednesday

Tropic Thunder (R)

Ben Stiller, Jack Black and Robert Downey Jr. are Hollywood actors on the set of a war movie where everything goes wrong.

Opening Next Friday

Fly Me to the Moon 3-D (G)

A 3-D animated adventure about three young house flies who
stow away aboard the historic Apollo 11 mission to the moon.

Henry Poole is Here (PG)

The discovery of a neighborhood "miracle" disrupts a dying man's plan to live out his days in seclusion and quiet desperation.

Mirrors (R)

Kiefer Sutherland is a department store security guard who becomes wrapped up in a mystery involving the store's mirrors.

Star Wars: The Clone Wars (PG)

Jedi Knights Anakin Skywalker and Obi-Wan Kenobi return in a new animated chapter in the saga of the Star Wars universe.